Help kids and teens make new friends, learn new skills and interact with nature by working at a YMCA Camp. Learn more about our open camp positions, and how you can help enrich the lives of young people.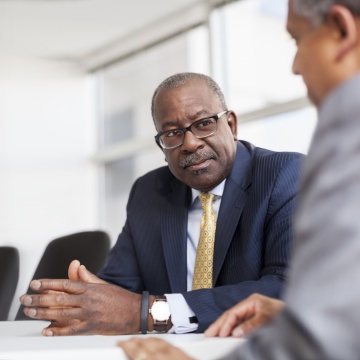 Y–USA President and CEO Candidate Profile
After more than 43 years of accomplished leadership with the Y Movement, including six as President and CEO of Y–USA, Kevin Washington has announced his intended retirement. The National Board of Directors has launched a national search to find Y–USA's next President and CEO, a once–in–a–lifetime role being filled during an unprecedented inflection point in our nation's history. View the candidate profile to learn more about this unique organizational leadership opportunity.
Strengthen Communities with a Career at the Y
If you're looking to discover a deeper sense of purpose and a meaningful opportunity to contribute to the greater good in your community, then the Y is the organization for you.
Follow the Y on LinkedIn for regular updates about career development, thought leadership and more.
At the Y, you'll see more than just employees. You'll see dedicated people who love what they do.
Watch more Y stories
My Y Career – Jacqueline's Story

Jackie started her Y career as a college student in Austin, Texas who was just looking for a way to earn money, but she found a passion for working in childcare. When she moved to Boulder, Colorado, reconnecting with the Y there was a natural move. Now she trains the youth development staff whose shoes she was once in at YMCA of Northern Colorado. This is her Y career. Her camera. Her story.
Y employees are guided by four core values
Show a sincere concern for others

Be truthful in what you say and do

Treat each other as we'd all like to be treated

Be accountable for your promises and action
Our Commitment to Diversity, Equity and Inclusion
Our staff make us a stronger organization. Made up of people from all backgrounds, abilities and ages, we believe their ideas and individual contributions are essential to our mission.
We believe young people are catalysts for change in the world. Our career opportunities support their development as leaders and provide them with opportunties to grow.
The Y's dynamic sports leagues and fitness classes need enthusiastic teachers and coaches to lead them.
The Y needs fiscally savvy individuals to help our organization and our initiatives reach more people nationwide.
With a presence in over 120 countries, the Y needs staff to bridge connections and work alongside our global partners.
The Y is all about making communities stronger, which requires leaders who can foster connections and facilitate constructive conversations with community organizers and local politicians.
Marketing and Communications
Marketing and Communications
The Y is always looking to reach more people and make an even greater impact. To do this, we need passionate people to help us promote our mission.
The Y advocates for public policies that help our communities thrive. This requires staff who are dedicated to influencing public policy to help us achieve our purpose.
The Y needs capable and caring staff to provide a safe, engaging and fun environment for all the children in our care.
Academic Enrichment and Education
Academic Enrichment and Education
The Y encourages personal growth and well-being by supporting the young people and adults in our education programs and initiatives.
The Y is looking for energetic individuals to share their love of the outdoors with young people as they learn valuable life skills, respect for the environment and how to be part of a community.
The Y wants people who are committed to our mission and work. We offer coaching, career pathing and training through a comprehensive leadership development system that will help you reach your full potential.