Top 5 Safety Around Water Tips from the YMCA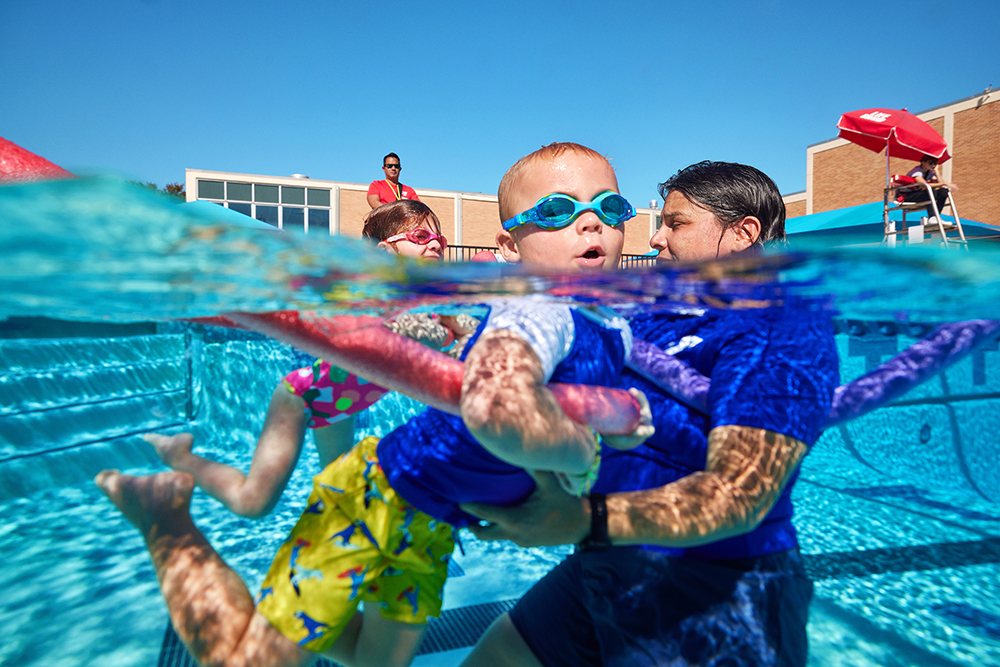 The end of the school year marks the unofficial beginning of summer, bringing excitement and fun to families across the country. As temperatures rise, chances are your summer plans may include being in or around the water – whether swimming at your community pool or taking a trip to the beach or water park. However, before your kids jump in, ask yourself, "Are they ready?" 
The harsh reality is, drowning is the leading cause of death for children between the ages of 1 to 4 years old, according to the Centers for Disease Control and Prevention. It is also the second leading cause of unintentional injury death for children 5 to 14 years old. 
The good news? Knowledge is power, especially when it comes to water safety. While these statistics can be scary, use them to empower you as a parent or caregiver. While we can't make children fully waterproof, we can do something to help make our children safer around water. In fact, research shows that participation in formal water safety and swim lessons can reduce the risk of drowning among children 1 to 4 years of age by 88 percent. 
Knowledge is power, especially when it comes to water safety.
Group swim lessons were invented by the YMCA and for more than 100 years, families have turned to the Y to learn how to swim in a fun, safe and inclusive environment. Thanks to Y swim lessons and our comprehensive Safety Around Water program, we teach water smarts and life-saving skills to more than one million kids each year.  
So, when you are prepping for summer this year, be sure to add these water safety tips to your toolkit – they will help build confidence and a lifetime love of the water. 
Always Ask Permission 
One of the most important things a parent can do is to instill a simple rule before a day at the pool, beach or lake: always ask permission before entering any body of water. From bathtubs, to oceans to a backyard pool, kids should understand the importance of asking permission before they enter the water. 
 
Find Your Water Watcher 
Whenever children are in or around water, make sure an adult is identified as the official "Water Watcher." This person is tasked with keeping an active eye on and supervising everyone around or in a body of water, with no distractions – no phones, no books and no conversations. 
 
Use the Buddy System 
Never let your kids swim alone, despite how strong of a swimmer they seem or claim to be. The Buddy System exists for a reason. Before you leave for the pool or beach, designate specific swimming buddies for everyone in your group, even yourself. No one is too old for water safety! 
 
Suit Up Accordingly
Swimsuits and sunscreen are not the only things kids should be sporting around the pool this summer. Coast Guard-approved life jackets should be used to keep kids safe, in or around any body of water. Do not rely on water toys, such as inflatable floats or pool noodles, as safety equipment. 
 
Ban Breath-Holding Contests 
Breath-holding contests are a common pool game but can also be dangerous. Do not encourage a child to hold their breath for a long time while swimming, as it can lead to complications and a possible emergency. 
Learning a new skill can be daunting for kids of any age, especially when water is added to the equation. Parents and caregivers play a critical role in teaching their kids the basics of swim safety – however, you are not alone! At the Y, we are committed to building confidence in and around water, both through our Safety Around Water program and swimming lessons for all ages, offered at locations across the country. 
Want to learn more about water safety for a fun and safe summer? Find a Safety Around Water class at your local Y and enroll today. 
Learn More about Water Safety and Swim