Water Safety and Swimming

Drowning can happen nearly anywhere with standing water — but as a parent or caregiver, you can't keep your kids sidelined. By equipping kids with the tools they need to be confident in and around water, they'll be able to reap the health benefits of exercise, bond with family and friends and take pride in their new skills — safely.
Did you know?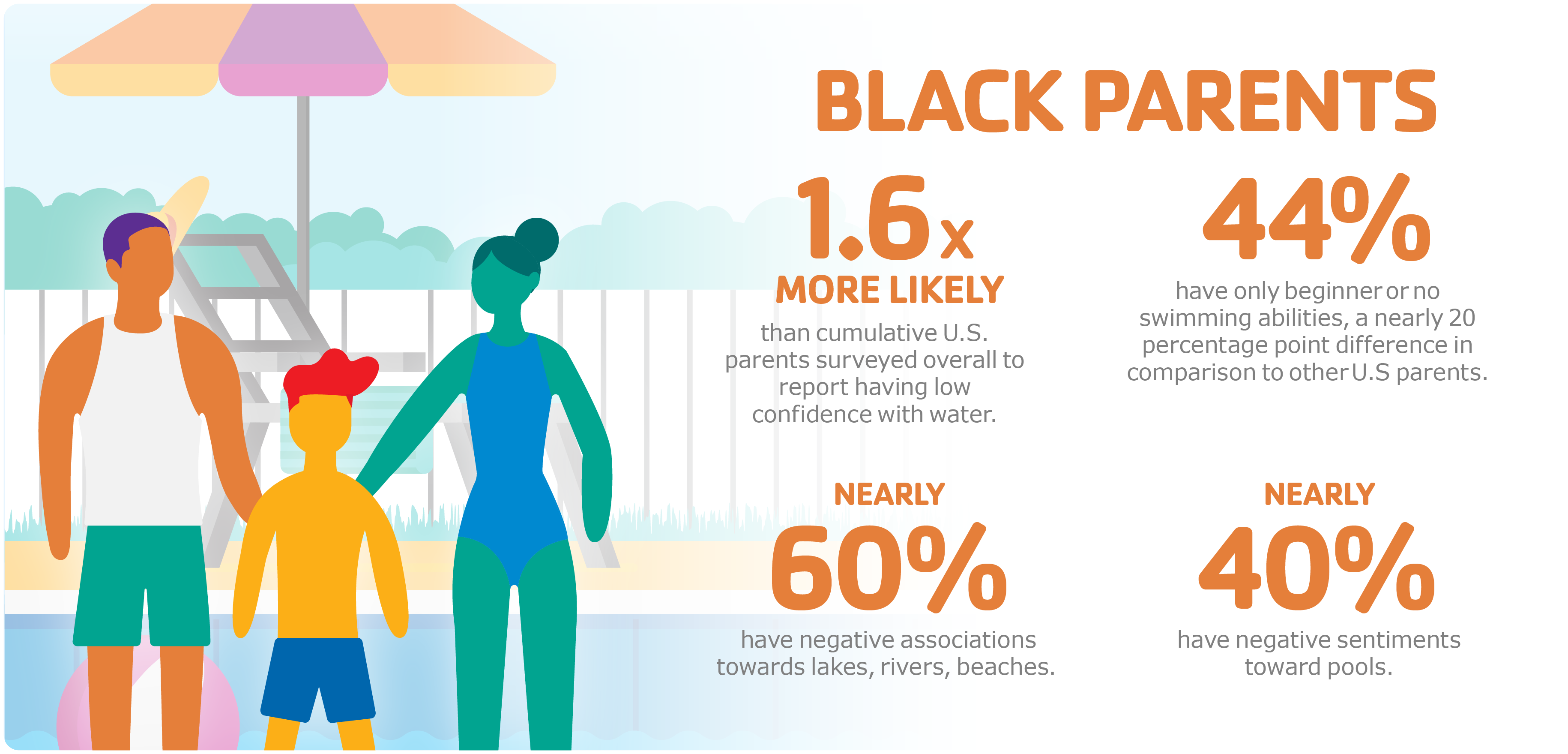 Understanding U.S. Parents' Relationship with Water
More than 100 years ago,
the Y created the concept of group swim lessons and to this day, teaches more than 1 million children invaluable water safety and swimming skills every year. The Y's size and reach as a vital community asset uniquely positions the organization to bridge the gap in the delivery of swim lessons and water safety education.
9 in 10

U.S. parents see swimming as a key life skill for children, on par with first aid skills or being able to prepare a simple meal.

24%

of U.S. parents have low confidence with water activities or bodies of water.

1 in 2

U.S. parents believe water safety classes are expensive in comparison to the other groups surveyed.

3 in 10

U.S. parents state that water safety isn't a priority due to affordability concerns.

36%

of U.S. LatinX/Hispanic parents, a much higher percentage compared to other parents, state that water safety isn't a priority due to affordability concerns.  
Drowning can happen nearly anywhere with standing water
Safety Around Water Program
Over the course of eight 40-minute sessions, adults and children learn important skills in and around water, including:
Basic swim skills, like floating, blowing bubbles, the freestyle stroke and the front crawl   
Safety skills, like CPR, identifying a safe place to swim and water rescue techniques ("Reach or Throw, Don't Go")    
Survival swim skills, like pushing off the bottom of the pool to resurface ("Jump, Push, Turn, Grab") and a method of swimming on your front and back ("Swim, Float, Swim")
Swim Lessons
The Y provides children across the U.S. with access to swim lessons and water safety education. The Y introduced the country to group swim lessons over 110 years ago in 1909. Now, as one of the largest community-based organizations in the country, we teach more than a million children, especially those most at-risk of drowning, invaluable water safety and swimming skills each year.
There are three general categories of Y Swim Lessons:
Swim Starters helps children ages six months to three years develop swim readiness skills through fun experiences that build confidence. In addition, parents learn how to supervise children in the water, prevent accidents and plan for emergencies.
Swim Basics enables students of all ages to gain basic water safety and swimming skills. Swimmers become comfortable and confident in the water through practicing safe water habits, engaging in underwater exploration and learning how to swim to safety if they fall into a body of water.
Swim Strokes introduces and refines stroke technique in older swimmers (school-age, teens and adults). Having mastered the fundamentals, students learn additional water safety skills and build stroke technique, developing skills that can help prevent chronic disease, increase overall well-being and foster a lifetime of physical activity.
Enroll in a YMCA Safety Around Water or Swim Lessons Program Today!
Both programs are available to all kids and families. Visit Find a Y to locate a program in your community.
Through team sports, family activities and early learning programs, discover more ways that children can develop as individuals.
The Y is committed to empowering kids to lead healthy, active lifestyles. From gaining confidence to building positive relationships with friends and peers, sports at the Y are about building lifelong skills and healthy habits.

Family time at the Y is about giving families — as a group or as individuals — opportunities to deepen relationships, develop new skills and interests, connect to the community and improve their health and well-being.

Child care and early learning programs at the Y focus on child development by building foundational skills, developing healthy relationships and fostering self-reliance, all in a safe and supportive environment.