Serving Through Crisis at Home and Abroad
Serving Through Crisis at Home and Abroad
A refrain for YMCAs around the world for the past two years has been, "We are open and serving through crisis." As the COVID-19 pandemic wreaks havoc on the health of communities near and far, YMCAs also felt the impact of an economic crisis and the fight for racial justice. The converging of three crises at once has challenged YMCAs to face harsh new realities related to budgets, staff capacity and the ability to offer relevant programs and services. Through it all, YMCAs in the U.S. and abroad continue to respond with resilience and a commitment to building a stronger global community.  
Along with the challenges COVID-19 brought, there were also opportunities to reinvent and reimagine who we are as a global Movement. YMCAs have been rebounding and redoubling their efforts to serve as a platform for young people to take social action on pressing global issues. Throughout the pandemic, YMCA of the USA and Ys in the U.S. emphasized global solidarity with YMCA partners overseas. Collectively, we contribute to the World YMCA's vision of prioritizing community and well-being, meaningful future of work, a sustainable planet and a just world for all. 
You may have heard about the ways Ys have been supporting local communities during the pandemic. The following examples demonstrate the resilience and global solidarity from YMCA partners beyond the U.S. 
Collectively, we contribute to the World YMCA's vision of prioritizing community and well-being, meaningful future of work, a sustainable planet and a just world for all. 
Casas YMCA (Mexico) 
Founded in 1991, the YMCA Homes for Migrant Youth (or Casas YMCA) provides vital services to unaccompanied migrant youth who are deported from the U.S. to Mexico. To date, the Casas YMCA has served more than 73,000 migrant youth by providing temporary safe shelter, balanced nutrition, clothing, medical assistance, psychological counseling, legal aid, life skills development, recreational activities and family reunification services. Of the total migrant youth served, 80% are reunited with their family and 20% make alternative life plans, such as claiming asylum in Mexico. 
During the pandemic, the Casas YMCA increased services by adding protocols to keep migrant youth safe from COVID-19 while also supporting the surrounding community's growing needs. In 2020, 3,700 community members received COVID-19 emergency aid, including food and hygiene product distribution, in addition to the migrant youth that the Casas YMCA was serving. 
Ys in the U.S. historically have supported the Casas YMCA to address the immigration crisis on the Mexico-U.S. border and provide unaccompanied minors with vital holistic services. As of August 2021, a cohort of U.S. Ys and community partners are re-organizing under the YMCA Border Initiative Coalition to raise awareness of and support for the Casas YMCA by engaging U.S. communities around raising awareness of immigration issues and resource mobilization.
---
Albay YMCA (Philippines) and Ann Arbor YMCA (Michigan) 
The Ann Arbor YMCA in Ann Arbor, Michigan offered virtual opportunities for young people to take action in their local communities to address pressing global issues such as climate change. Through the World YMCA's Youth-Led Solutions Initiative, teens from the Ann Arbor YMCA engaged with peers from their international partner, the Albay YMCA in Albay, Philippines, to design, launch and implement a youth-driven leadership development program to prepare young people to combat climate change locally and internationally.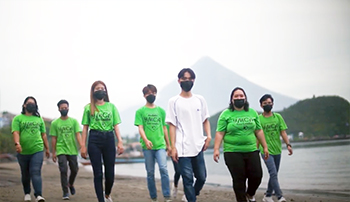 Despite the pandemic and travel restrictions, the Ann Arbor YMCA and the Albay YMCA adapted new ways of communicating by conducting trainings and activities on virtual platforms. This deepened the international partnership by connecting young people across the globe and providing a platform for these Eco-Leaders to collaborate on advancing shared initiatives.  
To date, the global Youth-Led Solutions Initiative has engaged over 36,000 individuals in over 30 countries. It continues to serve as a platform for young people to connect and learn from each other despite the limitations of the pandemic. At a time when young people are suffering the social, emotional and mental consequences of the pandemic, the initiative provided them with an opportunity to engage their global peers meaningfully and take action in their local communities. Watch a video highlighting their work.  
---
Cross-Cultural Conversations on Racial Equity (South Africa) 
The South Africa YMCA Coalition, which was established in 2006, is led by Eric Mann, CEO of the First Coast YMCA in Jacksonville, Florida. The coalition was created to strengthen the leadership, youth programs and sustainability strategies of YMCA partners in the U.S. and South Africa. In 2020, the South Africa and U.S. YMCA Movements worked together to organize food distribution, COVID-19 testing, virtual youth education and mental health services to address the growing disparities in townships throughout South Africa.  
The South Africa YMCA Coalition supported Ys in the U.S. in 2020 by organizing two virtual, interactive presentations on racial equity attended by over 100 volunteer and staff leaders The presentation explored the lessons learned, challenges and future opportunities from the South Africa Truth and Reconciliation process that took place between 1995-2003, post-apartheid. These global conversations on racial equity have continued throughout 2021 to advance the Y's efforts to become an anti-racist, multicultural organization committed to social justice.  
---
An Interconnected World 
With a presence in 120 countries, the YMCA is uniquely positioned to address the needs of local communities while drawing from the knowledge, strength and collective impact of the global YMCA Movement. During the pandemic, we drew strength from each other by creating spaces for leaders at home and abroad to learn from each other and develop local solutions to address global inequities. Leveraging our global network helps us develop a global mindset to help YMCAs be more relevant and impactful in the communities they serve.  
We invite you to learn more about the powerful work of the global YMCA Movement. 
---