Advancing COVID-19 Vaccine Equity
Advancing COVID-19 Vaccine Equity
YMCAs have been bridging the gaps in vaccine education and access by focusing intentionally on equitable distribution of information and opportunities to better understand the risks of and benefits to vaccination.
The COVID-19 pandemic has magnified the health inequities already present in the U.S., direct reflections of discriminatory systemic and societal structures years, decades and sometimes centuries in the making. According to the Centers for Disease Control and Prevention (CDC), many racial and ethnic groups have been disproportionately affected by COVID-19, likely due to the intersection and unequal distribution of social determinants of health like economic stability, neighborhood and physical environment, food and healthcare access and racism, among other factors. The American Public Health Association states, "We are not going to reach health equity during a pandemic," but how do we endeavor to keep disparities from widening in our current reality?
---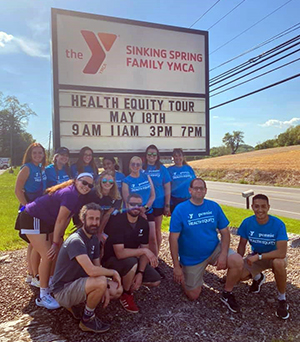 The Y's Response to COVID-19
Throughout the pandemic, Ys have worked tirelessly to close the gaps and meet the intensifying needs of their communities through food distribution, child care, housing support, virtual learning support, strategies to address social isolation and remote and in-person health and wellness programs. Once vaccines were authorized for emergency use, the Y's efforts evolved to ensure community members have access to trusted, accurate vaccine information and to minimize barriers for those who elect to get vaccines. As one example, the Y piloted a program with CVS where YMCAs are serving as vaccination sites in six cities in communities without pharmacy access. A partnership between the Y, CVS and Lyft has helped provide free transportation to vaccination appointments. Ys in 38 states, serving more than 500 communities, are offering free drop-in child care to assist families with vaccinations. Additionally, the Y made a commitment to the White House to support peer to peer education in the U.S., through which YMCA Youth and Government Leaders worked to develop a peer educator toolkit.
---
Vaccine Equity and the Y
Historical injustices and health inequities in our society mean that many communities distrust the healthcare system and are skeptical about the safety and effectiveness of the COVID-19 vaccines. Further, vaccine access is not universal, nor are the supports needed (e.g., transportation, time off work, etc.) to make vaccination feasible for everyone who wants to be vaccinated. With this understanding, YMCA of the USA's past President and CEO Kevin Washington connected with other Black CEOs of large public and non-profit organizations and began an effort to ensure equitable access to vaccine education.
In June, with support from the CDC, CDC Foundation and National League of Cities, 45 YMCAs started to bridge the gaps in vaccine education and access by focusing intentionally on equitable distribution of information and opportunities to better understand the risks of and benefits to vaccination. By activating networks of local community leaders, city officials, community-based organizations, health departments and other community stakeholders, Ys are bolstering existing vaccine education efforts to address vaccine hesitancy and to remove barriers to vaccine access, with an emphasis on the "moveable middle" and communities with lower vaccination rates or that are not reflected in existing vaccine education campaigns. The goal is to ensure everyone has the resources – resources that are scientifically accurate, address their specific concerns and are tailored to their needs – to make the vaccine-related decisions that are appropriate for themselves and their families.
---
Vaccine Support in Action
So, what has this looked like on the ground? In an organization as diverse as the Y, the breadth of activity includes:
Producing PSAs on local access television, featuring people whose lives have been forever changed by the loss of loved ones due to COVID-19
Hosting pop-up and mobile vaccination clinics in partnership with local health departments
Recruiting youth ambassadors to lead campaigns to educate their peers
Coordinating virtual listening sessions for community members in multiple languages
Making vaccine appointment reminder calls

Harrisburg Area YMCA staff

Providing transportation to vaccine appointments
Working with local immigrant- and Black-owned businesses to host food trucks at vaccine clinics and education events
Co-branding vaccine educational materials with trusted community organizations
Commissioning local artists to create merchandise for distribution at community events
Conducting community-wide tours to provide community members access to free health resources
Identifying leaders within communities being served and providing a platform for them to tell their stories
And most importantly, listening and building connections with Indigenous, Black, Asian and Hispanic/Latino communities; LGBTQ+ teens, rural communities, people who are unhoused, people experiencing poverty, people whose trust has been eroded or unearned by the healthcare and health insurance industries, and anyone else who may have been affected by the dual viruses of COVID-19 and the health inequities exacerbated since March 2020.
The Y's national footprint, existing infrastructure and deeply rooted ties to the 10,000 communities it serves throughout the U.S. help us to serve as a trusted voice and a safe space. We all have a role to play in bringing the pandemic to an end and – if we lead with equity and empathy – in eliminating the unjust conditions that keep us all from achieving optimal health.