While YMCAs work every day to strengthen communities and ensure everyone reaches their full potential, many communities remain underserved. One way the Y addresses inequities is through our federal advocacy agenda, which works to remove the barriers that prevent everyone from thriving and to provide additional resources to address specific needs. 
Our federal legislative priorities focus on programs that we can leverage through our presence in communities across the country. Following are examples of how the policies and legislation supported by the Y support kids and families, advance health equity, address food insecurity and empower individuals and communities to create lasting change. 
---
Supporting Working Families  
Nearly 38% of children in the U.S. live in low-income households. Economic insecurity in a child's early years can create lifelong disadvantages, ranging from poor health to low achievement in school. The Y supports increases in funding for federal programs like the Child Care and Development Block Grant (CCDBG), Head Start and 21st Century Community Learning Centers (21st CCLC). These critical programs support economically disadvantaged families by increasing the availability, affordability and quality of child care, allowing parents to work or participate in training programs.  
Hundreds of Ys across the country participate in their state's CCDBG-supported child care subsidy program, which offsets the cost of child care, often a family's largest expenditure, for children 12 and younger. Ys also operate Head Start and Early Head Start programs that prepare children from birth through age five for school and provide critical services to families.  
Ys also partner with Title I schools to provide academic enrichment after school and during the summer through 21st CCLC. These programs help kids develop academic and social-emotional skills and provide additional opportunities when they are not in school. 
---
Promoting Child Safety and Growth 
Ys are leveraging child welfare supports that provide targeted services to our country's most vulnerable children, including safe spaces, violence prevention programs and access to state and local child welfare services. Support for the Child Abuse Prevention and Treatment Act and Resilience Investment, Support, and Expansion (RISE) from Trauma Act would bolster these supports to reach more kids and create safer homes and communities.  
We know that mentoring is a critical component in young people's lives, helping them make decisions and connections that lead to valuable opportunities. However, mentors and mentorship programs are often unavailable to the kids who need them most. The Y supports the Youth Mentoring Program at the U.S. Department of Justice, which provides grants to youth-serving organizations to fund quality mentoring programs grounded in evidence-based research to improve outcomes for kids. 
Through our federal advocacy agenda, we work to remove the barriers that prevent everyone from thriving.
Advancing Health Equity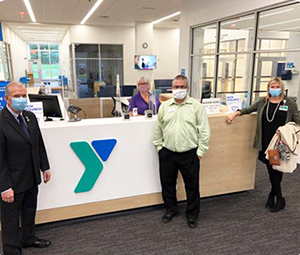 Today, six in ten Americans live with a chronic health condition. Communities of color and low-income communities are disproportionately impacted and suffer worse outcomes from illnesses. Because of these disparities, they also experienced higher hospitalizations and deaths due to COVID-19. The Y partners with the Centers for Disease Control and Prevention (CDC) to invest in proven community health interventions that address chronic diseases and the risk factors of physical inactivity and poor nutrition. For two decades, the Y has advocated for increased funding for the CDC to prevent and control chronic diseases like diabetes, heart disease, cancer, arthritis and obesity, which then allows us to address chronic disease prevention at the community level. 
Drowning is the leading cause of accidental death for children ages 1-4, and this epidemic disproportionately impacts children of color. The Y is also working with the CDC to launch a drowning prevention program that will enable Y's across the country to expand their Safety Around Water (SAW) program, which is designed to reach children at risk of drowning and teach them basic water safety skills.  
---
Providing Wraparound Support  
Nearly 600,000 Americans are currently experiencing homelessness, which has grown during the pandemic and exacerbated disparities by gender, race and ethnicity. Many Ys are providing safe and stable housing in communities across the country. Our advocacy efforts call on the federal government to address housing insecurity by increasing funding for emergency shelter, transitional and affordable housing and services to address social and health factors that contribute to homelessness.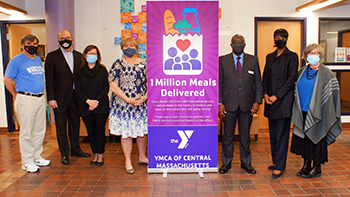 An estimated 17 million children in America face hunger and food insecurity. Ys are meeting this community need by providing millions of meals at thousands of sites through the U.S. Department of Agriculture's (USDA) child nutrition programs. These programs are effective, but would be improved by the Summer Meals Act (S. 1170/H.R. 783), which fixes longstanding challenges by streamlining USDA programs to support year-round feeding, expanding eligibility to serve more kids, allowing an additional meal or snack to be served during the summer and providing transportation services for hard-to-reach areas.  
According to a 2020 report by the Center for American Progress, nearly 75% of people of color live in areas where outdoor spaces aren't accessible. In partnership with the National Park Service, the Y has supported 67,000 young people of diverse backgrounds by providing them with their first summer camp and National Park experience. By supporting funding for NPS Youth Programs and a national Outdoor Equity Initiative, we can increase access to public lands and address the chronic and systemic inequities that prevent engagement in meaningful outdoor recreation, conservation, employment and educational experiences.  
---
National Advocacy Days: Bringing Our Voices Together
Every year, hundreds of Y staff, volunteers and program participants from across the U.S. participate in the Y's National Advocacy Days during which they meet with elected officials to share how we are making our communities healthier, happier and more equitable. On February 15 and 16, 2022, advocates met with their representatives to communicate the Y's priorities and discuss the continued support needed from Congress to serve all communities. Advocacy is a year-round effort, and we invite you to advocate for the Y by joining our YMCA Advocates Action Network. Together, we can ensure everyone in our communities has an opportunity to thrive.