24 Volunteer Ideas for Teens
24 Volunteer Ideas for Teens
Volunteer service helps teens build character, develop empathy, learn healthy habits and develop new skills that will empower them to thrive in adulthood.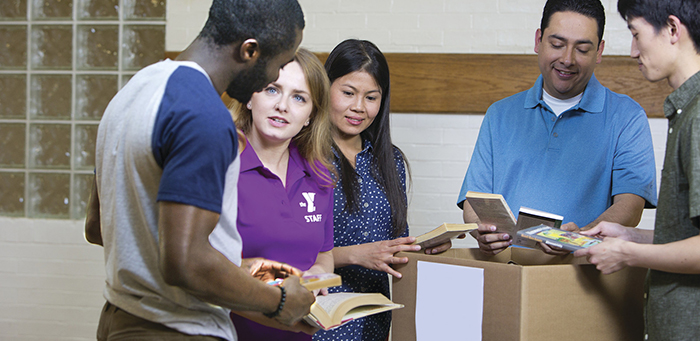 Yet many teens face barriers to getting started. Some may be shy to seek out opportunities or to interact with strangers. They may lack access to transportation or not feel qualified for certain roles. If traditional volunteer opportunities don't appeal to the teen in your life, share this list for inspiration. For more ways to give back in your community, contact your local Y.
(Teens: Be sure to check with an adult before starting an activity to ensure safety.)
1. Walk dogs for elderly or infirm neighbors.
If someone is temporarily unable to care for a pet, take the extra step to spend some time with that person as well. The pet's owner may be feeling isolated, lonely or guilty.
2. Visit with elderly or infirm neighbors.
A nearby house of worship may be able to connect you with people in your community who have trouble leaving the house and would benefit from short, regular visits. You can also help rake leaves, shovel snow or bring food.
3. Prepare or serve meals at a local soup kitchen.
Contact a nearby house of worship to help you identify soup kitchens. If you're too shy to interact with recipients of the program, preparing meals in the kitchen is another important role you can fill.
4. Help younger students with homework after school.
The rules and policies around this will vary from place to place, but if there is a subject that you excel in, consider offering help to younger students who may not have access to tutors. Your local Y or a teacher at your high school should be able to connect you with students in need.
5. If you have a car, offer to grocery shop for an elderly or infirm person.
Getting to the grocery store can be expensive and cumbersome. This simple task may take less than an hour of your time per week but will make a huge difference in someone's life.
6. Help an older person with technology.
Your local Y, library or retirement community may be able to pair you up with a senior citizen who needs help setting up email, talking to their grandchildren online, or completing a task you think is incredibly simple given that you grew up with technology.
7. Provide free child care to family members or friends.
If you're responsible and experienced with children, helping with child care can be a fun way to help out a member of your family or the community.
8. Fundraise for a cause you care about.
Many fundraisers involve races or walks, which have the added benefit of physical activity. Find a cause close to your heart and ask friends and family to support it, too.
9. Help out at an animal shelter.
Many surrendered animals need attention from humans. Look into volunteer opportunities that may include walking dogs, petting cats, cleaning cages, filing paperwork or answering phones.
10. Hand out socks to homeless neighbors.
Fill a new pair of socks with granola bars and water bottles. Then hand them off to people who are homeless in your community or nearby city.
11. Send holiday cards to military serving overseas.
The Red Cross Holiday Mail for Heroes program coordinates decorating and sending holiday cards to the military overseas.
12. Gather gently-used books and bring them to a local children's hospital.
In addition to children's hospitals, schools and Ys in underserved communities may also benefit from book donations.
13. Volunteer at a local hospital.
Many hospitals have volunteer positions in the cafeteria, gift shop or running non-medical errands to patient rooms.
14. Donate old clothes or toys.
You've likely outgrown a few pairs of pants or amassed toys you no longer use. Clean out your closets and give away gently-used items to your local Goodwill or Salvation Army.
15. Decorate a giving jar.
Ask friends and family to contribute and decide together where the funds should go.
See what other youth volunteers across the world are doing right now. Get inspired and join a campaign.
17. Handwrite kind notes to strangers and leave them inside books.
Got an index card and a pen? Create anonymous messages to make someone smile: "You are beautiful." "You're going to be OK." "In case no one has told you today—you're a good person." Then leave the notes inside random books at a library or store.
18. Get your hands dirty in a community garden.
If you enjoy being outdoors, supporting a community garden is a great way to give back while also meeting new people. Community gardens can vary from flower beds to vegetable gardens to homes for live chickens! Don't have one nearby? Consider starting one on your own.
19. Teach English to immigrants.
Many local libraries, schools or Ys may offer English as a Second Language (ESL) classes. Often, the students in these classes need to practice conversation skills or may benefit from reading aloud in a one-on-one setting.
20. Get involved in local politics.
Though you may not be old enough to vote, you can begin to learn about the democratic process by volunteering for elected officials during their campaign, or at a polling station on election day.
21. Coach youth sports.
Young children look up to teens like you. If there is a sport you enjoy, consider spending some time with younger players to improve their confidence and skill.
22. Offer free music lessons.
For many families, music lessons don't fit inside the household budget. Yet exposing children to the arts can help them identify a new talent or passion.
23. Make dog toys out of old t-shirts.
Then donate them to a local shelter.
24. Volunteer for a crisis hotline.
Many support networks like TeenLineOnline.org will train teens to be able to connect with peers in crisis.
---
Looking for more tips and support?
Have more ideas for this list? Tweet them to us @ymca #TeenVolunteers.