Tips for Creating a Summer Camp Tinkering Space
Looking to keep young minds and hands busy during summer camp? STEM activities are a fun and easy way to promote creativity and exploration among campers. These hands-on projects encourage curious children and teens to use their natural gifts to develop new skills through design and innovation. But what if camp staff have limited resources or lack STEM knowledge?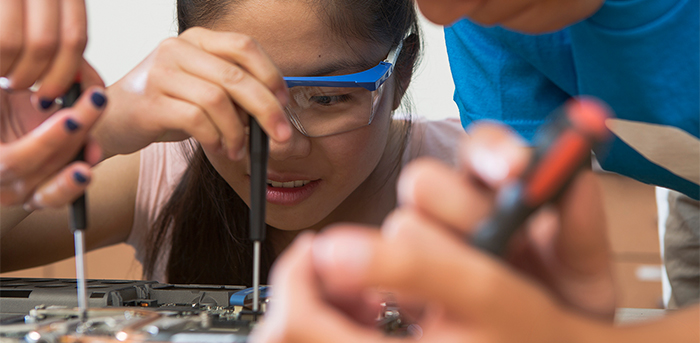 A 'tinkering' or 'making' space is a simple, low-cost solution that will keep kids (and staff) entertained and inspired on long summer days—no science background required!
STEP 1: Ignite a passion for learning by creating opportunities for young people to work with leftover or donated robotics and circuitry. Simply make the supplies available and set up an environment that encourages creating.
STEP 2: Create the space
Here are a few tips for getting started:
Start small and build the program slowly. Cardboard, tape and creative thinking can be a starting place. A 'making' space does not need to start with 3D printers. No matter the size of your budget, you can begin.
 
Create a vision for the currently available space as well as your ideal 'dream big' space. Draft the space layout (whether stationary or mobile) and begin to build up supplies.
 
Organize a team that supports your vision of a 'tinkering' space to practice collaboration and innovation.
STEP 3: Invite campers to innovate and solve problems using the gadgets at their disposal. Ask questions like, "How many times can you move X across the table using Y? How can you repair X using only what is available in the room? What hypothetical prototype could you develop using these supplies?"