Ten Ways to Promote Active Learning in Summer
Ten Ways to Promote Active Learning in Summer
Hands-on, active learning keeps youth engaged, encourages friendships and leads to memories that last a lifetime.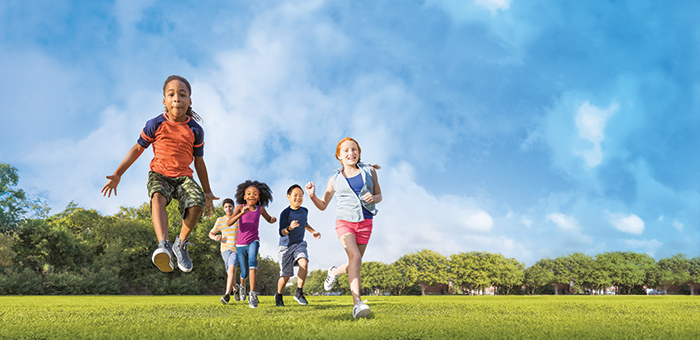 Here are ten ways to promote "active learning" in the summer:
1. Get moving!
Activities that require movement also help kids flex their mental muscles. Use materials in unique ways. Ask youth to build models, manipulate tools or develop their own theatrical scenes. Consider what sparks youths' interest and incorporate these themes.
2. Challenge your youth.
Provide learning content that requires effort, yet is attainable. Your summer content should not be too easy, which can provoke boredom, yet not too difficult that it leads to frustration. Think about the developmental stages of the youth you're working with and their preferred learning styles. Summer is a time for flexibility!
3. Be a good "coach."
Youth development staff can facilitate summer learning by allowing the players to play the game while supporting and guiding them from the sidelines. Give your summer learners the space and time to explore without the pressure to score (find an answer) right away.
4. Ask questions.
Adults can adjust the challenge level of an activity simply by asking certain questions. Help youth make connections between previous experiences and new materials and ideas. Ask questions that help youth understand concepts and encourage them to use problem-solving and reasoning skills. Modeling curiosity is a great way to stimulate creative thinking.
5. Jump in!
As appropriate, join your summer learners in their activities. Participating alongside youth gives adults the opportunity to get to know young people as individuals.
6. Make connections.
Promote learning connections by organizing content into weekly themes. Align with local or national events such as upcoming solar eclipses
7. Engage the community.
Invite local organizations or experts to share their knowledge. A local bank may provide financial literacy lessons; a master gardener may help kids start to grow their own vegetables; or a local historian may lead a walking tour of local landmarks.
8. Take advantage of free existing curriculum.
Check out the educational plans provided by NASA, Peace Corps, National Geographic, the Smithsonian, PBS National Gallery of Art or local organizations.
9. Provide youth with voice and choice. 
Allowing kids and teens to cultivate their own interests and lead activities helps them develop critical life skills. Offer several activities simultaneously that provide a variety of diverse experiences.
10. Facilitate reflection.
Following activities, check for understanding and answer questions youth may have. Allow them to practice critical-thinking and executive function skills such as connecting experiences to larger ideas. Recognize their accomplishments and provide feedback. Good reflection questions include:
Was there anything that surprised you about today's activity?
What was easy or hard?
What did you learn that was new?
What ways might you apply what you learned?
What did you like about it?
How would you improve it?
Did your team work together well? Why or why not?
What would you do differently next time?
---
Looking for more tips and support?
Share your ideas on Twitter using #BestSummerEver #YMCA!