Self-Care is Camp Care: Three Tips For Keeping up with Campers
Three Tips For Keeping up with Campers
Whether you're a veteran camp director or a counselor-in-training, the weeks leading up to camper arrival can be filled with distractions. While planning activities to keep campers' brains and bodies active, staff can easily forget to prepare themselves for the 12+, demanding—but best ever!—weeks ahead.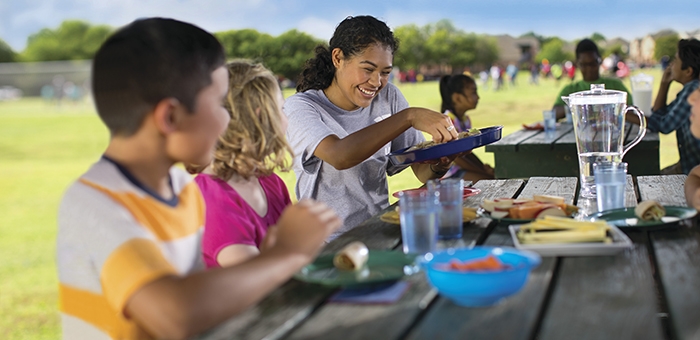 Getting in shape for summer requires all camp staff to prepare mentally, emotionally and (gulp) physically. Here's how the healthiest leaders do it:
1. Step Up Your Game
Youth development professionals who work with children year-round are well aware that kids keep us on our toes — literally and figuratively. Now consider that you'll be moving into an outdoor space where there's even more ground to cover along with extra hours of playtime in the sun. Prepare for this new daily routine by stepping up your current one.
Park your car farther away than usual from building entrances.
 
Take advantage of warming weather by walking the perimeter of your local Y, campus or office building during lunch.
 
Seize healthy opportunities to elevate your heart rate by climbing stairs, going for a short run, using a jump rope or using wearable technology to engage in fun competitions with colleagues.
2. Put Yourself in Time Out
It's not just for kids. Staff should practice some mental downtime during their busy season by finding appropriate times to take a 10-30 minute "time out" before the camp day begins or right after it wraps. This time should be void of caretaking, social media or stressful distractions. Taking care of oneself first allows us to help others learn new skills, build friendships and feel welcome.
Try three minutes of deep breathing exercises or a short guided meditation on YouTube.
 
Make a gratitude list and think beyond the workday to all the positive aspects of your life.
3. Know the Warning Signs
Keeping up with campers also involves providing emotional support during a critical time of year. For some kids, out-of-school time can be stressful as they lose access to regular nutrition, experience chronic stress or struggle to make new friends. Adverse Childhood Experiences (ACEs), including divorce, witnessing abuse and living with a mentally ill parent, affect more than 60% of children. Understanding warning signs and having the knowledge to best support campers and families in a time of need can help everyone involved avoid summer stress. Your local YMCA can provide resources that equip you for emotional emergencies big and small to better ensure wellness for all campers.