How To Save College-Bound Teens From 'Summer Melt'
How To Save College-Bound Teens From 'Summer Melt'
The spring season is often filled with excitement and celebration for graduating high school seniors across the country. National College Decision Day—when teens submit their final choice for the college they will attend in the fall—happens every May.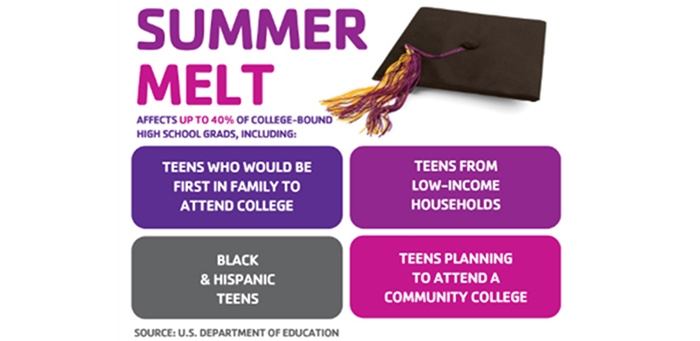 But then something happens.
The number of students who ultimately show up on campus in the fall is significantly lower (up to 40% in some parts of the country) than the number who enrolled in the spring.
The phenomenon is called 'summer melt,' and it occurs when the intentions of students to attend college 'melt away' over the summer months following graduation. Education researchers point to several barriers, including the looming burden of tuition fees and young students' inability to navigate an unfamiliar and intricate college enrollment process without the assistance of a school counselor.
The bad news is that summer melt disproportionately affects first-generation students, students from lower-income households, students of color and students planning to attend community college.
---
The good news is that youth development professionals working with college-bound teens this summer can help prevent 'a meltdown' by simply taking the following steps:
1. Build a Support Squad
Bring all the seniors together to support each other through the process. Whether it's a weekly check-in circle or pairing up to complete tasks, having a friend to go through the process often makes things easier — and more fun!
2. Check In
Talk with your students regularly to make sure they are meeting deadlines. Assist students with navigating different enrollment process steps such as scheduling freshman orientation, registering for classes, completing housing forms, understanding financial aid award letters and tuition payment schedules, signing up for placement tests and making sure immunizations are up-to-date.
3. Partner Up
Partner with different high school counselors or college admissions representatives who can volunteer to host 'office hours.' These volunteers will be available to answer questions for students and parents and lead workshops to help students prepare for the fall. This is also a great way to utilize program alumni, like current college students who were previously in teen programs at the Y.
4. Help Develop Future Leaders
Create opportunities for students to become their own advocates. Encourage them to find community resources, continue the scholarship search and reach out to relevant staff members at their intended colleges for help. As much as you might like, you won't be on campus with your students to help them face every challenge. This helps them build early connections to campus resources.
5. Ask the Experts
Ask your students what they need support with to make sure they land on campus this fall. Sometimes this will result in a specific request for resources, while other times this will become a moment for encouragement and reassurance — your students are about to take a big step in their college journey. Having a supportive adult ally like you will make all the difference!