How to Help Teens Become More Globally Engaged
How to Help Teens Become More Globally Engaged
Engaging teens meaningfully in global issues equips them with critical knowledge of the world and its cultures. It also develops the competencies necessary to adapt and thrive in an increasingly multicultural and global society. Through the simple steps listed below, teens can become more globally aware citizens and future community and world leaders.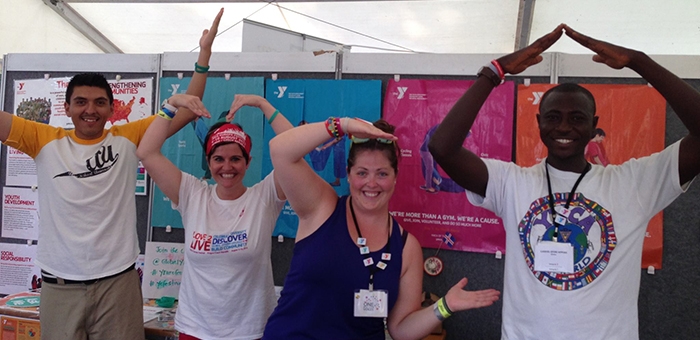 Four tips to help teens become more globally engaged:
1. Explore the community.
Encourage teens to explore the global aspects of their local community by leading them on a "walkabout." Learn about different neighborhoods and communities by writing down observations about global cultural influences. Even better, ask a trusted leader from the community to walk around with your group. Once the walkabout is complete, organize discussion sessions to share and reflect on observations.
2. Make it personal.
Help youth and teens see the relevance of global issues in their daily lives. To help them connect the dots, encourage them to explore what they are passionate about and to express what issues matter to them personally. Then have them explore how those issues can be tied directly or indirectly to international issues. Here are some examples:
Mikaela has a strong commitment to keeping her neighborhood free of pollution. Encourage her to learn about the giant garbage patches that are floating in the world's oceans and how different regions of the world contribute to it, including the U.S.
 
Jason is interested in a career in ballroom dance choreography. Encourage him to trace the roots of rumba, salsa and tango to different parts of Latin America, Africa and Europe.
 
Sokhanya loves technology and aspires to be a design engineer for Apple. Encourage her to understand how coltan, a mineral used in smartphones and other electronics, is mined in many parts of Africa.
3. Make it experiential.
Teens often learn best through hands-on interaction. As an engagement strategy, incorporate service-learning projects where teens must intentionally reflect on the similarities and differences between their own lives and those of peers living in other countries and cultural contexts. An example is a literacy project where teens volunteer to help first- through third-graders boost their reading skills. Work with the teens to reflect on what factors may have led to the program's participants reading below their grade level. Discuss similar literacy challenges in countries like Senegal, Haiti and Nepal. Experiential service-learning helps to build empathy, and empathy leads to action.
4. Create international connections.
Help teens build bridges by engaging virtually with like-minded organizations in different countries. This builds a sense of inter-connectedness where teens become concretely aware of international realities. In group discussions, help teens reflect on how issues that are important to them also affect their peers in other countries.
In 2019, the YMCA celebrated 175 years of positively impacting youth with a global gathering in London—the birthplace of the Y! Hosted by YMCA Europe in partnership with YMCA England, the World Alliance of YMCAs and YMCA of the USA, YMCA175 brought together more than 5,000 young leaders (ages 16-35) from Ys around the world to connect, celebrate and create, together. The U.S. YMCA delegation was made up of more than 500 youth and Y staff and volunteers from around the country.