Come One, Come All: YMCA New American Welcome Center
Bedimar's Story 
It was 4 a.m. on February 13, 2018, when Bedimar Munoz and her husband, son, daughter, sister and brother-in-law piled into a blue car, leaving behind their mango tree and everything else they had ever known in their home of Venezuela to move to the U.S.  
Bedimar and her family are among the growing number of immigrants who, over the past 20 years, have chosen to settle in Florida. According to the Migration Policy Institute, Florida has almost 1.5 times the number of foreign-born residents than the national average and there was a nearly 70% increase in immigrants to the state from 2000 to 2019.  
---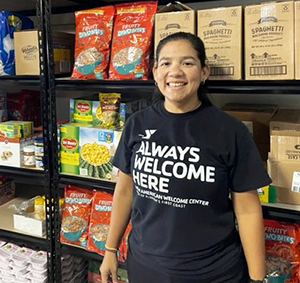 First Coast YMCA's New American Welcome Center   
Soon after arriving in Jacksonville, Florida, Bedimar connected with the First Coast YMCA's New American Welcome Center. One of only 18 YMCA associations that have established New American Welcome Centers nationwide and the only one in Florida, the center provides critical resources to newcomers like Bedimar, including English classes, a food pantry and opportunities to make social connections. Since opening in 2019, the center has served more than 11,000 individuals from 16 countries. In 2021 alone, the food pantry distributed more than 43,000 pounds of food and 9,000 diapers. 
The New American Welcome Center has allowed me to give back to the community. I'm grateful for the support I received when I came to this country.
A Place to Belong 
A sense of community and belonging can go a long way for newcomers who are looking to integrate their families into their new communities while preserving their identity from their homeland. Bedimar wanted to ensure that her kids kept loving their native land and culture, including its food and dancing. She credits the New American Welcome Center with allowing her family to learn about people from all over the world while maintaining their Venezuelan culture.  
Since connecting with the First Coast YMCA's New American Welcome Center, Bedimar started volunteering to help with the center's food distribution efforts. Now she is part of the Y's staff team as a program coordinator, a role that allows her to help other newcomers make the same connections that benefited her and her family.   
---
Welcoming and Celebrating Our Neighbors  
At the First Coast YMCA, we encounter stories like Bedimar's every week, most recently from refugees fleeing the ongoing conflict in Ukraine. Thanks to our local supporters, we were able to provide a month-long summer camp for Ukrainian refugee children so they could experience a couple of weeks of summer fun in a safe environment. We also collected stuffed animals at 14 YMCA locations throughout Jacksonville to support a local 10-year-old boy who wanted to give Ukrainian children something to hold on to during this difficult time.  
The New American Welcome Center also gives Y employees and the greater Jacksonville community a window into cultures from around the world. It serves as a communal living room where new families can bond and plug in to resources that will assist them with their transition into their new community. As a daughter of Cuban immigrants, I know how valuable those resources are and I am proud that the First Coast YMCA prioritizes supporting newcomers in Jacksonville.  
---
Welcoming Week at the Y  
September 9 through 18, Ys across the U.S. will celebrate Welcoming Week to help all neighbors — both newcomer immigrants and U.S.-born residents — build stronger connections and feel at home. The First Coast YMCA embraces the diversity and uniqueness of our northeast Florida region by inviting the community to take part in interactive world maps, cultural activities and potlucks that allow us to share our heritage and learn from one another. Follow our Welcoming Week event updates here.    
Find a Welcoming Week event near you!