Reflecting on 50 Years of Title IX  
Reflecting on 50 Years of Title IX  
I grew up before Title IX, when girls did not have access to many of the opportunities that boys had. In my public school, there were no team sports for girls, only gym classes. In grade school, I wasn't allowed to wear long pants that covered my legs because I was a girl. When the temperature was below freezing, as it often is in Illinois, I wore pants under my dress on my walk — over 4 miles each day to and from school because there was no bus service — and was required to remove them when I arrived. In high school, I wanted to take a drafting class. My academic advisor said that drafting was for boys and put me in the stenography class instead.    
With those limitations and more, achieving equity in sports, education, jobs, pay and other aspects of life was unattainable for many women.    
---
Post-Title IX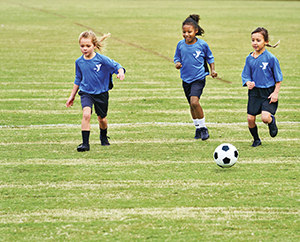 There have been significant advancements for women in the 50 years since the passage of Title IX, which was a landmark policy change as it prohibited discrimination on the basis of sex, including sexual orientation and gender identity, in schools and other institutions in the U.S. that receive federal financial assistance. Women are now more represented in powerful political office, with 50% of the presidential cabinet and 30% of congressional seats held by women. The number of women leading Fortune 500 companies continues to rise. As of the last time data was gathered in 2019, 31% of Ys in the U.S. were led by female CEOs. YMCA of the USA (Y-USA) just appointed its first female CEO, Suzanne McCormick, in 2021, and the outgoing and incoming board chairs are women. 
---
Women in the Workforce
Despite these gains, women still face many challenges in employment. The pandemic has led to an expansion of work-from-home jobs and the January 2022 jobs report showed nearly half a million jobs added. However, women are reentering the workforce at lower rates than men and the female employment rate remains far below pre-pandemic levels. Working, whether from home or outside the home, is unavailable to many women due to their increased likelihood to serve as the primary caregiver for their household. Since February 2020, 1.1 million women who left the labor force have yet to return.  
These issues are a direct result of a failure to prioritize the core infrastructure that enables more women to work. Peer countries have invested in policies that help keep women in the workforce, such as affordable childcare, paid leave and flexible work environments. The absence of these safeguards in the U.S. has been even more detrimental to women of color and will continue to leave a population of women out of the workforce, slowing economic recovery in the U.S.  
At the Y, equity is not just a word—it is an action.
Equity in Action
At the Y, equity is not just a word—it is an action. We are relentless in our work to ensure that every individual has an opportunity to achieve their potential through Y membership, programs and employment at the Y. Ys across the U.S. provide programs and services that strengthen communities and the families within them. Below are a few of the ways that the Y advances equity for women and families:  
The Y's before and after school programs serve as vital child care for working parents, with 729,126 kids served in 2020.  
Ys offer subsidies and scholarships for memberships and program registrations, allowing more families to access the Ys services. 
Y-USA's Government Relations team advocates for policy change through partnerships at the federal, state and local levels. 
Y-USA's Global, Diversity Equity and Inclusion team partners with Ys across the country to promote equitable outcomes for people of all backgrounds and social positions. 
The Y's Women's Leadership Resource Network "aims to create a nationwide network of female-identified Y professionals to provide networking opportunities and professional development experiences, encourage space to share knowledge and encourage personal growth."  
Women are essential to our workforce, our workplace, our economic recovery and our future as a country. We've made fifty years of progress, but we have much more work to do. 
---
Sources: