My life has been full of advantages and privileges. I didn't always understand or acknowledge this, and it wasn't until I traveled halfway around the world that I finally figured it out.
I went to college expecting to attend law school after graduation, but my studies ignited a new passion in me: social justice. Though my major technically was political science, I had no plans to pursue elected office or join a policy think tank. I knew I wanted to be of service to others and help people who didn't have the same opportunities I had.
My particular interest was apartheid and South Africa, so I went to a meeting on campus hosted by the Peace Corps hoping to learn more about opportunities to serve. I liked what I heard and applied to become a volunteer. Fortunately, my application was accepted, but there was a twist – I wasn't offered a position in South Africa, but rather a position teaching English in one of the poorest, most rural parts of Thailand, near the border with Laos. Not knowing if this would be my only opportunity, I took it.
---
A Transformative Experience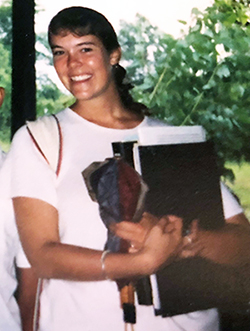 My Peace Corps experience was transformative. I learned what it's like to live as a newcomer in a foreign culture – what it feels like to be seen as different day in and day out. I also discovered how much more difficult life can be for people who can't leave the circumstances they were born into. The kids I taught were children of laborers from the rice paddies, and a good education was their only chance to do something other than follow their parents into the fields – and even then, there was no guarantee.
I stayed in Thailand for three years and believe every minute was a blessing. Admittedly, I left feeling pretty good about myself, like I had earned one of the ultimate merit badges for diversity, equity and inclusion. But I came to recognize – after truly committing to understanding these values – that my experience in Thailand had elements of the privileges I had enjoyed my entire life. My position was temporary, and I knew that from the beginning. I could have left at any time had living there become too difficult. The people I interacted with every day had no such luxury and likely never would.
I realized that to be in service to others meant working to ensure all people, no matter their background or circumstances, have equitable access to the support, resources and opportunities they need to reach their full potential.
Delivering on a Commitment 
Delivering on a Commitment 
When we say at the Y that we are committed to advancing equity for all, this is what we mean. I feel so fortunate to have joined an organization that not only has made this commitment but also has a strategy in place to deliver on it. The success of our strategy depends on meeting people where they are and helping them move forward, so we all can make contributions to advancing equity in the Y and in our communities.
We welcome you to join the Y on this journey and to hold us accountable. Living our mission – to put Christian principles into practice through programs that build healthy spirit, mind and body for all – demands that we actively work to remove barriers that have prevented people from thriving based on their background, identity or social circumstances. We must advance equity for all.