Showing Up as My Whole Self: Reflections on Pride
I still remember what I was wearing to Boston Pride in 2017: a black skirt, heels and a shiny top. I remember the validation I felt at being among so many others like me and being told I was beautiful. At the same time, this was the first event where my identity as a queer transgender woman and my identity as a YMCA professional had the potential to collide. The YMCA of Greater Boston was marching in the Boston Pride Parade, and I was not marching with them. I had not even come out to them. I had seen gay and lesbian employees of the Y, but never for very long and rarely in leadership roles. I knew my own identity, but I hadn't yet developed the confidence to share that identity with the Y, partially because of the limited representation, but mostly for fear of how that information might impact my job and life.  
Almost a year after Pride 2017, the Y's Lesbian, Gay, Bisexual, Trans, Queer and more Resource Network (LGBTQ+ RN)—one of the Y's national employee resource groups (ERG) that aims to ensure that all LGBTQ+ staff and volunteers are safe, welcomed and valued—was seeking new members, and I applied. At that time, I'd only shared with my supervisor that my identity was somewhere on the alphabet of the LGBTQ+ spectrum. I remember feeling fear as I sent my application and even more fear as I set up an interview with the current leaders of the group. Even though I knew that they were part of a community that would support me, I still came to tears as I shared my identity with them—something I had not shared yet with anyone at the Y.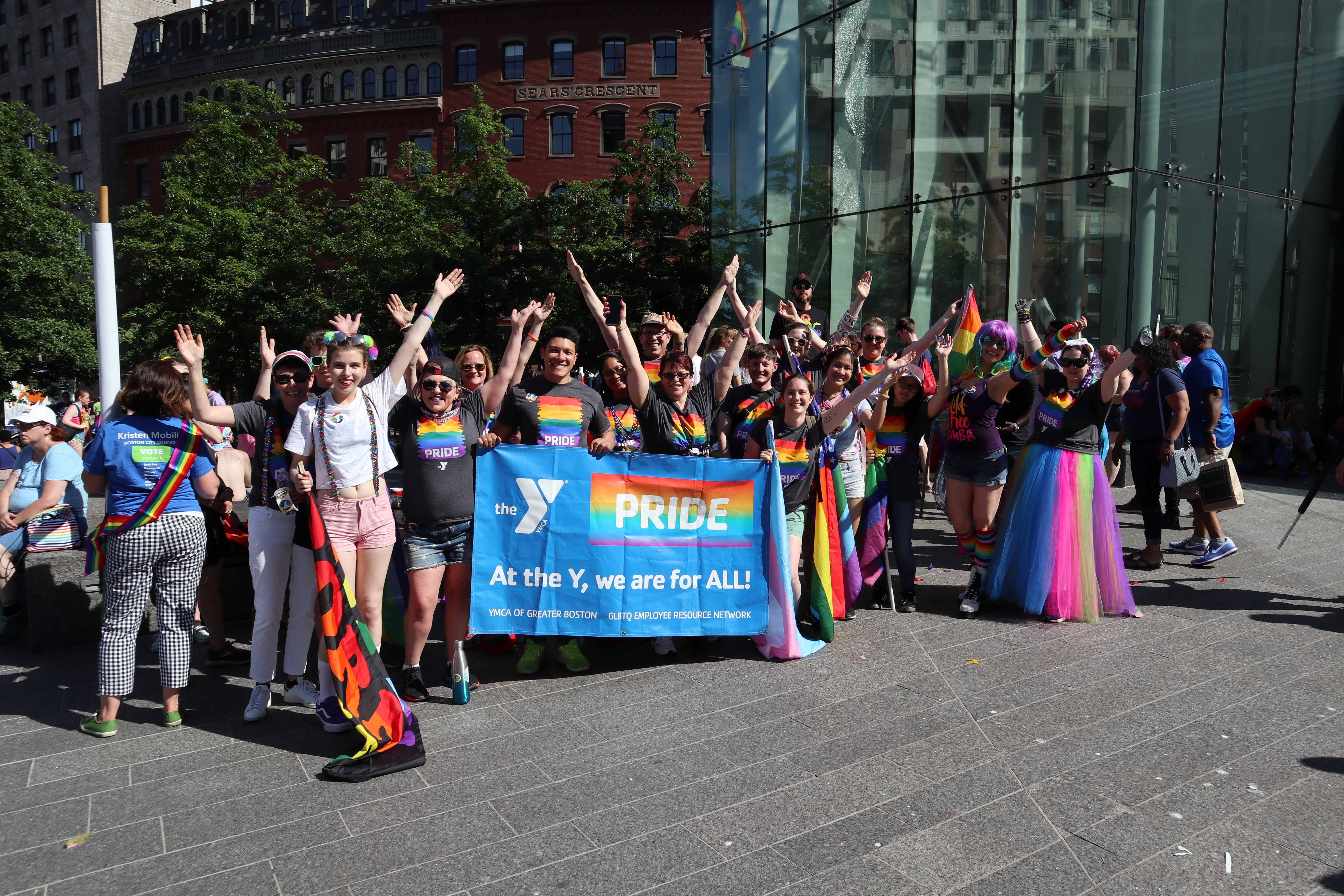 Skip ahead to June 2018. The YMCA of Greater Boston again marched in Pride, but this time I was marching with them. I had found allies and friends in the ERG, enough to reassure me that I belonged as part of the organization. Both ERG members and allies at my Y showed up and marched and, for the first time, they got to see the 'me' they hadn't met before. As more of my coworkers got to meet that part of me, my confidence about aligning my queerness and my identity as a community servant continued to grow. Our CEO even showed up to an open mic night where I was presenting and listened to me tell the story of attending one wedding where I could be myself with my partner, then getting un-invited from a different wedding because of who I am. The story ended with the question of what I would wear to my own upcoming wedding.  
After 2018 Pride, I continued attending ERG events, which were meaningful for two reasons. The first was that the events discussed and focused on the experience of being LGBTQ+ in society, and the second was that at each event we had the presence of YMCA leadership.  Each of these events helped me believe that when the Y says we are "for all," that it really does include me.  
Each of these events helped me believe that when the Y says we are "for all," that it really does include me.  
In 2020, I felt confident enough to share my identity with my coworkers. Given my job supporting IT for the whole organization, my supervisor, a leader I greatly valued within the Y, offered her full support in crafting a communication. The announcement came from her, so that I wouldn't have to be on the front line of questions about what it meant. I was now Adeline; I could bring my whole self to work each day.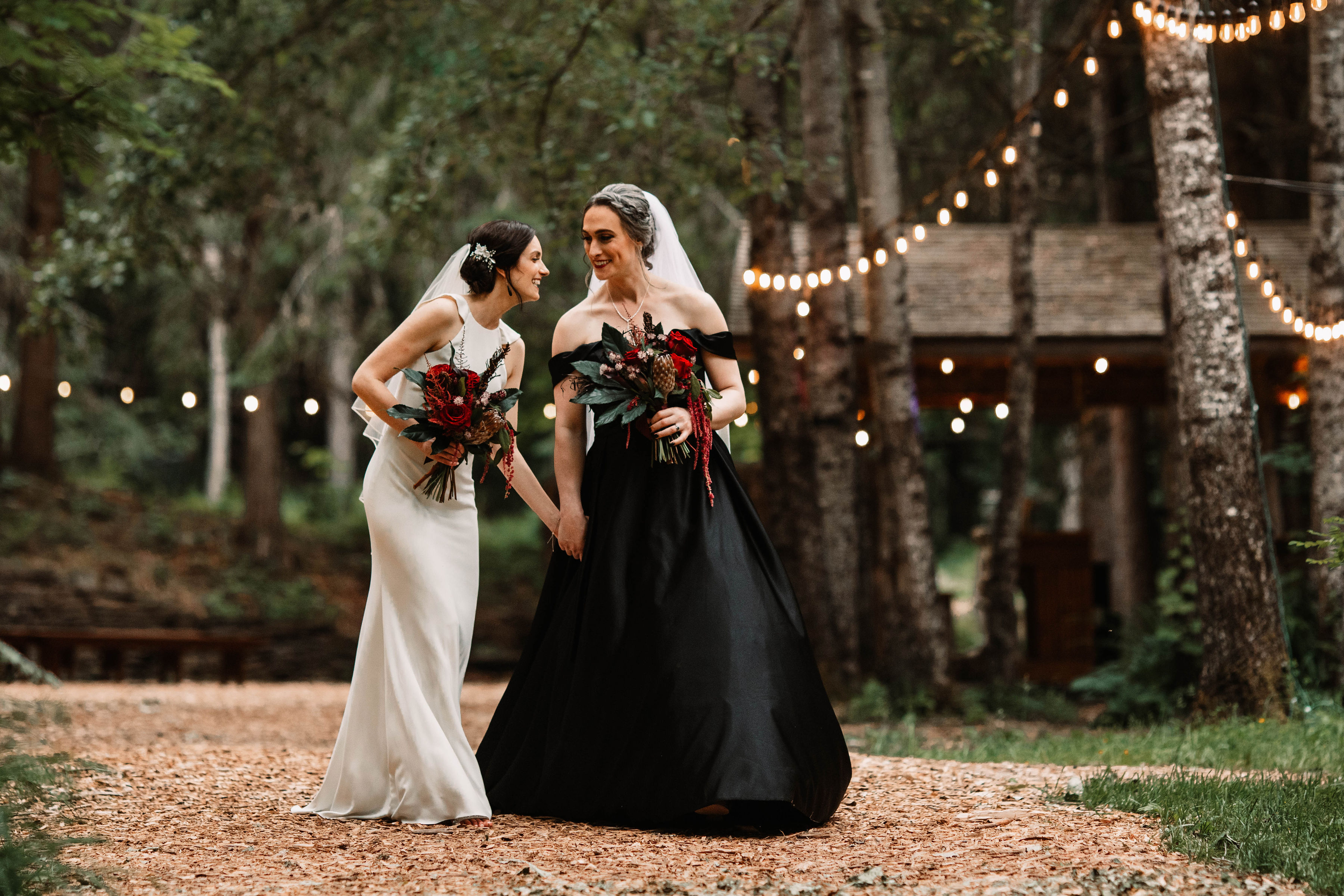 Today, I bring my whole self to the work as a member of the national LGBTQ+RN Steering Committee, as the lead for the YMCA of Greater Boston's ERGs and as a chair of the local LGBTQ+RN. I experienced the value of a leader who listened to me and fought for me even if they hadn't been through my exact experience. The work being done at both a national and local level lets others know that the YMCA supports the LGBTQ+ community as rich contributors to the mission and values of our organization.  
I currently serve as the communications lead for the Y's national LGBTQ+ ERG Steering Committee and as an inclusion subcommittee member. As a whole, the LGBTQ+ ERG does a wide variety of things to advance equity across the YMCA, including: The administration of a survey to Ys that assesses the inclusivity of LGBTQ+ staff, members, participants and volunteers. The assessment serves as a self-reflection tool and progress report for advancing a Y's commitment to LGBTQ+ community inclusion. We also host forums and webinars for local Y staff, including a recent panel discussion on how to get started participating in events like Pride. We have built a mentorship program, so that LGBTQ+ staff who are struggling to reconcile their identity with their workplace - as I had been back in 2017 - can learn from colleagues who have been through similar journeys. We are also answering questions from local Ys and providing guidance about the current threats to the LGBTQ+ community across the country, where legislation seeks to criminalize our very existence.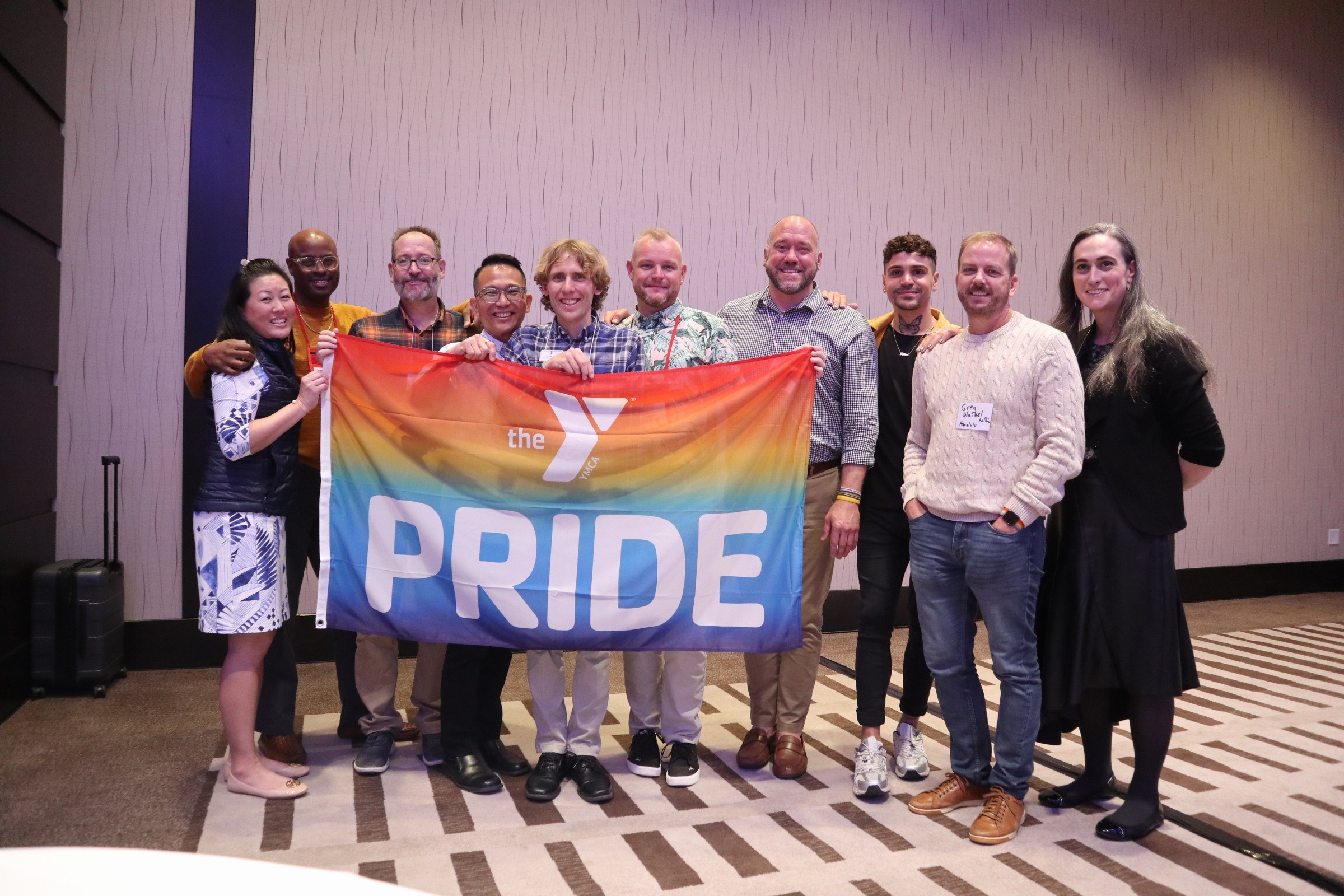 2022 National ERG Planning Meeting Group 
I am extremely proud to be a part of the YMCA movement and extremely proud of the leaders, employees and friends who have consistently stood for the core values of the Y—caring, honesty, respect and responsibility—especially as it comes to LGBTQ+ inclusion. I encourage you to show up to the LGBTQ+ events in your community. Your presence matters. Listen to what LGBTQ+ people have to say and learn how to be the best ally so that everyone can bring their full, authentic selves to the work we do for all.