This year, National Hispanic Heritage Month (September 15 – October 15) takes on special meaning for YMCAs in  the U.S. as we celebrate significant firsts in Hispanic/Latinx appointments to national leadership roles. In March 2022, CiCi Rojas was elected Chair of the YMCA of the USA National Board of Directors, a first for a Hispanic/Latinx woman. Hispanic/Latinx YMCA CEOs lead the three major YMCA Networks: Phillip Jimenez (West Cook YMCA) chairs the Small and Mid-Size YMCA Network; Alfredo Velasco (YMCA of Greater Long Beach) chairs the Mid-Major YMCA Network; and Jorge Perez (YMCA of Greater Cincinnati) chairs the YMCA North American Network. Being a Hispanic/Latinx first reflects not only remarkable individual achievement but is also an indication of important progress. CiCi's board appointment and the triumvirate Y network firsts demonstrate confidence in Hispanic/Latinx leaders and a shift within the Y's leadership.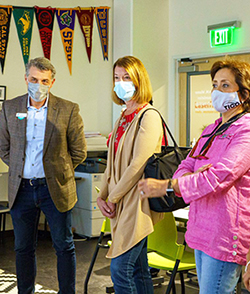 ---
Our Superpower
The progress Hispanic/Latinx leaders have made in the Y has given us an opportunity to showcase our unique qualities. Because Hispanic/Latinx people in the U.S. are culturally rich and racially and linguistically diverse, our leaders are able to interpret context and social norms through the lens of their different countries of origin, individual experiences and socioeconomic statuses. The array of lived experiences and exposure to many dimensions of diversity happens before we even reach the board room or C-suite. Our diverse cultural identification is our superpower. 
Our diverse cultural identification is our superpower.
Adelante 
Hispanic/Latinx leaders also place a high value on relationships due to cultural mores that center family as the basis for all that we do. An emphasis on offering support, service and security is often established during our formative years. The centering of family also means that we feel extra responsibility to the extended community. This foundation is especially valuable for leaders in the Y, as we are called to develop relationships with our staff, volunteers, boards and neighbors as we work toward our purpose of strengthening the communities that we serve. Vamos (let's go)— we know how to connect with people.  
---
We Can Be Diplomats 
The recent wave of Hispanic/Latinx leadership firsts in the Y are coming at a pivotal moment in time. We have reached a fever pitch in discourse on many issues in the U.S., and the conversation on race has come to the fore. The Y definitely has a place in the conversation, as we have been the creators of spaces for dialogue (formally and informally) for over a century. Because Hispanic/Latinx people represent diverse racial identities and national origins, we have a unique, intersectional perspective on the human experience. The Hispanic/Latinx first of today understands their role in the conversation and will wade into it with humility, courage and understanding.  
---
Honoring National Hispanic Heritage Month 
This National Hispanic Heritage Month, seek out conversations across the U.S. (virtual and live) to learn more about who we are as a people, our contributions to our communities and the country and our rich and complex journeys. 
Un saludo y felicidades (greetings and congratulations) to our YMCA Hispanic/Latinx national leadership firsts, CiCi, Philip, Alfredo and Jorge! We are very proud of you. You represent the best of the Y, you represent meaningful change and you represent hope.  
Pa'lante Siempre (always forward), 
Lucria Ortiz