RECORDING OF MAYOR REED'S PRESENTATION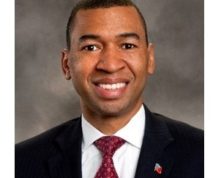 RECORDING OF MAYOR REED'S PRESENTATION
Steven L. Reed is the 57th mayor of the City of Montgomery. As Montgomery County's first African American and youngest elected probate judge, he has expanded access to representation, improved facilities and modernized the office to better serve the community.
Mayor Reed has made drastic improvements to mental health services and the administration of other areas. In addition, he stood up for the rule of law in a legal challenge to former Alabama Chief Justice Roy Moore over marriage equality. Mayor Reed serves on the boards of the River Region United Way, the Metro Board of the Montgomery Area YMCA, Trustmark Bank and Valiant Cross Academy. He is also the moderator at Community Congregational United Church of Christ, as well as an active member of Omega Psi Phi Fraternity, Inc. and Sigma Pi Phi Fraternity, Inc.
You don't have to be perfect to make progress. You don't have to have a perfect past in order to make positive change. But it is important ...that we acknowledge our role and we acknowledge our truth in this issue.
Question for Reflection
---
What is the history of systemic racism within your community? How has this changed over the years and how has it not?
Additional Resources
---
Read Light in the Darkness to understand the complex history of African Americans and the YMCA.
 
Continue to learn about our history and current struggle by watching Just Mercy about the work of Bryan Stevenson for free.