Introducing LyftUp: Transportation Access For All
Nearly 4.5 million Americans lack access to affordable transportation, a reality that affects young people whose futures depend on their ability to connect with opportunities across their communities.
The Y has partnered with Lyft to empower 16- to 20-year-olds by providing free, one-year bikeshare memberships for Lyft-operated systems. For a young person, access to a bike can make all the difference — helping them get to class, practice, games, lessons, work and more.
A bike is freedom. A bike is opportunity.

How You Can Help
Since 2020, the Y has been a featured partner in the Lyft app, offering riders the opportunity to round up their ride payment and donate the difference to the Y, directly supporting our efforts to expand bikeshare access, remove barriers and help people reach their full potential. Lyft riders must opt-in to the program to begin rounding up their fares for donation.
Join LyftUp by rounding up your ride payment in the Lyft app and donating to the Y.
Here's how:
Step 1. Open the Lyft app
Step 2. Click on the Donate tab from the main menu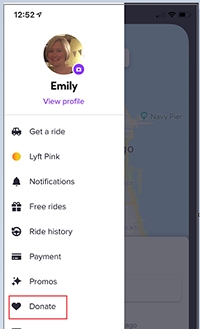 Step 3. Click "Choose an organization"
Step 4. Select the Y. Once confirmed by an additional click, all future rides will automatically round up to the nearest dollar and be donated to the Y!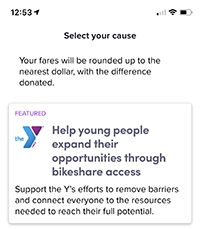 Thank you for helping the Y and Lyft empower young people by providing access to reliable transportation.
More Partnerships that Matter
The impact that we can have on communities is greatest when we all work towards a common goal. Your partnership with the Y can empower young people, improve people's health and well-being of all ages, and strengthen communities from your backyard and beyond.
Strengthening Communities Together Everything we do is grounded in meeting the unique needs of communities – and we can't do it alone. When you...