Three Ways to Help Kids Fall in Love With Healthy Food
3 Ways to Help Kids Fall in Love With Healthy Food
When school is out for summer, research finds children consume more sugar, watch more TV and eat fewer vegetables. Fortunately, many families and youth organizations like the YMCA are curbing bad habits by keeping kids healthy and active year-round.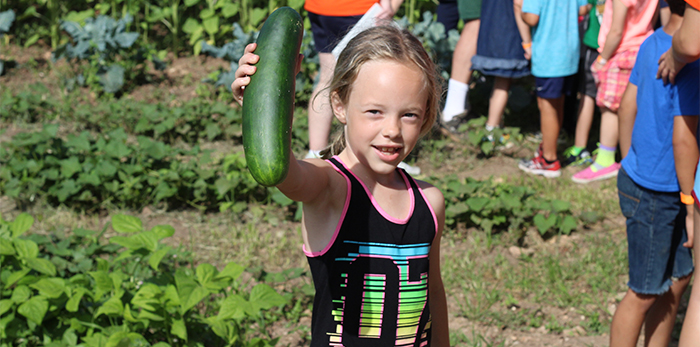 Teaching kids to fall in love with nutritious food is one way to promote healthy eating habits that will help them reach their full potential in life. Experts say the key is to get children involved from the very start—by planting seeds.
Garden education programs teach kids where food comes from and how to grow it themselves. Young gardeners can develop an interest in healthy food options as they are often eager to taste the literal fruits of their labor.
Gardening also encourages physical activity and helps kids develop new friendships, a sense of achievement and a sense of belonging through teamwork.
---
Here are three ways you can use gardening to help kids fall in love with healthy food this summer:
1. Lead a garden show-and-tell activity.
Nurture kids' curiosity by asking each one to find something interesting in the garden and have them share with each other. They may choose to talk about a unique leaf or a bug crawling on a plant. Sharing their findings will build confidence and a connection to their peers.
2. Invite a local chef to prepare the produce.
Once the young gardeners have sampled their produce, a professional can help them see the creative potential behind each ingredient. Learning how to chop, mix and create flavors—like a fresh summer salsa—will help kids develop new skills as their palettes expand.
3. Create a take-home garden.
Consider sugar snap peas, which are great seedlings to grow in a cup. Children can take these baby plants home to share with their families and transplant in their own yards. Bringing good habits home will help encourage healthy food choices year-round.
---
Looking for more tips and support?
Does your summer camp have a garden? Share a photo with @ymca on Twitter. You can also learn more about what the Y is doing to make sure all children have access to proper nutrition year-round at Meal Programs for Kids.