My Why: From Summer Camp to Wedding Day
When I was a newbie camp staffer, I spent a lot of time caring for a young boy named Joey who was going through a particularly hard time at home. His father had been battling cancer and often, Joey had trouble focusing on activities. To help him stay focused on trips or hikes, I would remind him to "hold my pocket", and he would grasp my backpack or end of my sweatshirt so as not to get lost.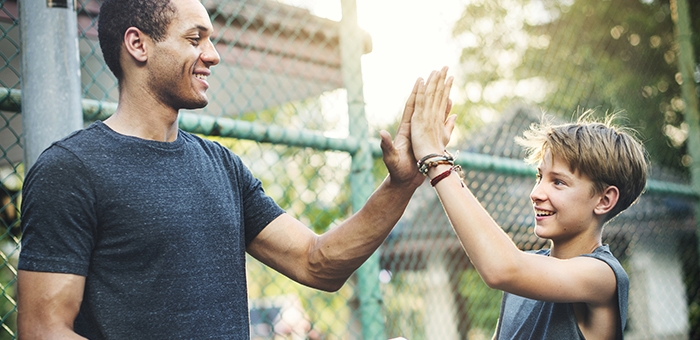 One day early in the season, Joey approached me to say that Friday would be his last day. Knowing Joey was signed up for the entire summer, I had to ask why he was abruptly leaving camp.
Joey's father had died, and it turned out his recently widowed mother would not be able to continue making payments. I was completely caught off guard with this news and my heart sank for him.
Knowing what an important and healthy distraction camp was for Joey during this difficult time, I was determined to help him continue his youth development journey that summer.
After a quick huddle with the camp leadership, we were able to arrange for Joey to finish the summer at no cost. It turned out to be a worthwhile investment. His continued camp experience had a tremendous impact on Joey—and on me.
Fast forward fifteen years.
To my surprise, I received a wedding invitation in the mail from my former camper Joey and I was honored to attend. (I was also mildly concerned I wouldn't be recognized in a suit, but I did don the appropriate attire.)
On the receiving line, I first greeted Joey's new wife with a simple introduction, "I knew Joey long ago". But when I reached out to shake Joey's hand, he was ecstatic to lift me off the ground in a giant bear hug. As I turned to go, I felt a tug on my pocket—Joey's signal that he was following the leader. I couldn't believe he remembered it. When she saw him tug my pocket, his wife recognized the connection. "You're Mr. Mike?" she exclaimed. For the rest of the procession, the couple insisted I stand between them so I could be introduced to their family and friends as "the camp counselor who helped Joey as a kid."
I was blessed to be a part of that day as much as I was blessed to help a boy who was having a tough summer. It was then that I realized the depth of the impact I had had on Joey, and likely many more children.
As youth developers, we must remember a lot of campers go home to difficult situations. For some, camp is the only safe and positive environment for them. When a sudden life change impacts a camper, it is our role as youth developers to support them in every way we can. It is important to see camp as an opportunity to be the change in their lives—to be an inspiration for them to hold on to.
Children are amazing and live for the positive connections built at camp. Take time out of your day to figure out what your 'Why' is.
Think of your group each morning as you get out of your car and arrive at camp, or move from your cabin like a still pond. It is calm and peaceful.
Now imagine throwing a stone into that pond.
Watching the splash shoot up into the air and come crashing down.
Now picture in your mind's eye the ripples that push out from that stone. That is the change you can create at camp. Be proud of what you do and be honored that these young people are in your life and that you are in theirs.
---
About Michael Garcia
Michael has been working in camp for 28 years. He runs his own consulting business and is the Camp Director for Camp Centerland of the JCC of Greater Buffalo.