How to Plan Smart Snacks Campers Will Love
How to Plan Smart Snacks Campers Will Love
Serving up the right snacks can make a difference in how active campers perform and behave for the rest of the day.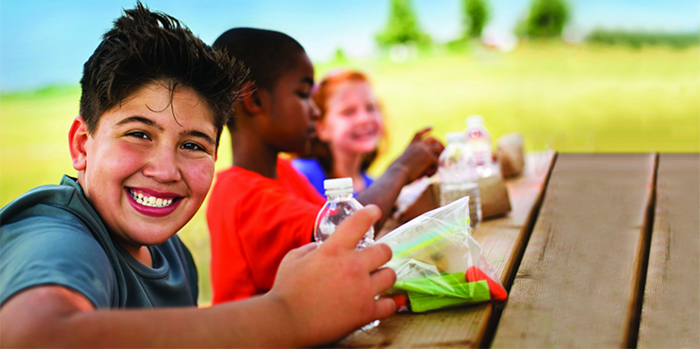 Here are three tools to guide your healthy (aka "smart") snack menu planning process:
---
Adhere to HEPA Standards
The Healthy Eating and Physical Activity (HEPA) standards offer guidelines for snacks that will provide the appropriate nutrients without the junk. General rules to follow:

DO

Serve a fruit or vegetable at every meal and snack

Serve only water and plain, low-fat (1%) or non-fat milk

Serve whole grains when grains are served

DON'T

Serve foods with trans fats

Serve snacks that are fried or pre-fried

Serve products with more than eight grams of added sugar

Serve products where sugar is one of the first three ingredients

Get on the A-List
The John Stalker Institute of Food and Nutrition provides a 76-page PDF of vending and snack products that meet the USDA's Smart Snack nutritional standards called the A-List. The guide is regularly updated and lists hundreds of items, their corresponding nutritional facts and relevant distributors. The YMCA recommends double-checking A-list items against HEPA standards.
 

Crunch the Numbers
The Alliance Product Calculator can be used to determine whether an individual product qualifies as a USDA Smart Snack by answering a few questions about the product and plugging in some nutritional facts. This handy tool works for beverages, snacks, sides and entrees.
Although there is no official list of "approved snacks," the YMCA recommends the following products to get started on your smart snack menu planning:
---
"Made with Whole Grain" Goldfish
Keebler Bug Bites Graham Crackers
Skeeter Cinnamon Grahams
"Made with Whole Grain" Teddy Grahams
Chewy Granola Bars
Triscuits or 100% Whole Grain Wheat Thins
Natural Applesauce
Mixed or Single Fruit Cups in 100% Juice
Fruit "pouches" with No Added Sugar
Welch's 100% Juice Freezer Pops
Fudgsicles
Seltzer Without Added Artificial Sweeteners or Sugar
Unsweetened Ice Tea
---
Looking for more tips and support?
Learn more about how the YMCA is ensuring all youth have access to nutrition year-round by following #TheYFeedsKids.
FTC Disclaimer: This post is not sponsored.