How Camp Counselors Use Art to Teach 21st Century Skills
How Camp Counselors Use Art to Teach 21st Century Skills
Creative play is more than just fun and games. Exposure to the arts from an early age is critical to the cognitive, physical, and social-emotional development of children. In fact, kids who have regular access to digital arts, literature, dance, drama, music and visual arts build 21st century skills more rapidly than children who do not.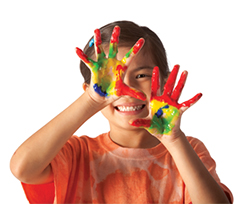 As we head into the season of play, camp counselors can easily incorporate the arts into existing summer activities. This helps kids develop four crucial life skills:
Communication: Appropriately expressing needs, concerns and feelings
 
Collaboration: Getting along with others, developing emotional intelligence
 
Critical-thinking: Evaluating situations in order to form judgment
 
Creativity: Turning imagination into reality
Three methods to integrate art into your program
YMCA camp counselors can help children develop these skills and more in three simple ways:
Be intentional and move from craft projects to engaging youth in a creative process. Promote exploration and individuality instead of providing samples or using craft kits that result in the same.
 
Provide opportunities for collaborative art where each youths' creation is a part of a larger one. Allow time for youth to have meaningful group discussions.
 
Give youth a voice. Allow youth to contribute to the planning, implementation, and reflection.
---
Looking for more tips and support?
Watch this 4-minute clip to learn more about integrating arts into youth programs.