Help Prevent Kids From Quitting Sports
Help Prevent Kids From Quitting Sports
Research shows that active kids do better in life. They are less likely to be obese, less likely to smoke and less likely to engage is risky behaviors. Active kids also perform better in school, are more likely to attend college, tend to earn higher salaries and have lower health costs over their lifetime (Source: Aspen Institute).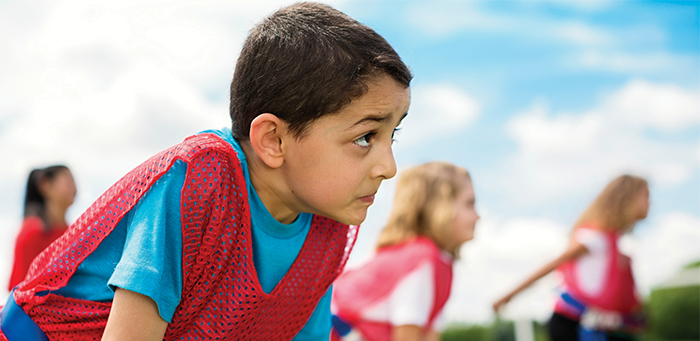 But coaches and sports directors report the participation numbers are declining nationwide with fewer children ages 6-12 showing up to play and a sharp drop off occurring around middle school. Since 2008, Aspen Institute reports there are 2.6 million fewer kids playing basketball, soccer, football, baseball, track and field or softball.
Why is this happening?
The American youth sports model is broken—a belief shared by the YMCA and The Aspen Institute, a leading policy studies organization focused on youth. The current pyramid-like structure favors competitive players while the majority of kids are pushed aside.
Source: Aspen Institute
Beyond how well a child performs, there are further barriers to keeping kids active in sports through age 12:
Family Income: Fees and equipment are cost-prohibitive for many families from low and middle-income households who must make choices when it comes to children's extra-curricular activities.
Access to Space: Open play areas and public parks have become harder to find with organized teams dominating over free play.
Untrained coaches: Fewer mentors to encourage and engage children and in some communities, an absence of quality sports leadership.
Screen time: With more children gaining access to technology at an earlier age, the popularity of sedentary hobbies is on the rise.
At a recent youth summit focused on play, former First Lady Michelle Obama declared, "This has to become a national priority."
At thousands of YMCAs across the country, youth sports is among the most popular vehicles for supporting kids' healthy development. Learn more about what summer camps and youth organizations can do to get kids back in the game.
---
Looking for more tips and support?
The YMCA is committed to working with The Aspen Institute's Project Play in an effort to reimagine youth sports in America and build a new model based on a holistic approach to youth development that is inclusive of all children. Learn more about Project Play's proposed solution and how your summer camp or youth organization can get involved.