Five Tips for Welcoming Campers with Diverse Abilities
Five Tips for Welcoming Campers with Diverse Abilities
For kids with diverse abilities, finding a sense of belonging can sometimes be a challenge. Summer camps have a unique opportunity to ensure all youth have the best summer ever through fostering an environment that is welcoming and inclusive.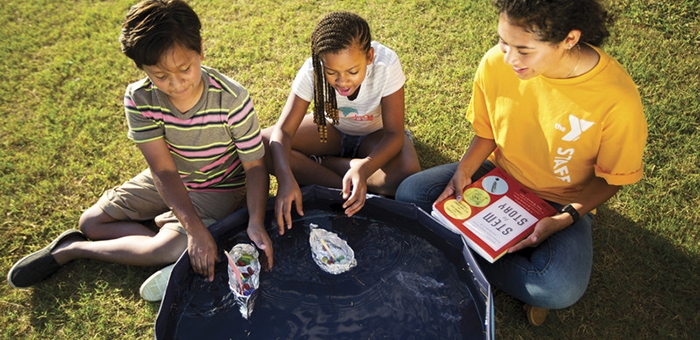 Camp staff can do their part to help kids with diverse abilities feel welcome at camp by asking the following questions:
Are staff using "person-first" language?
It's important for children to be known for more than just their diverse abilities. Camp staff can support this by using terms that speak about the person first, for example: "a child who uses a wheelchair;" or "an individual with autism." Remember, families with young campers may not have discussed their child's diverse ability with them. Most importantly, make sure all children are given the space and affirmation to self-identify their dimensions of diversity and actively participate in efforts to create greater inclusion for all.
 
Are we creating an inclusive environment for all youth?
In an inclusive camp environment, children of all abilities are able to fully access and participate in the same programs and activities. Create accommodations that can make camp welcoming for all. For example, some youth with autism or other types of diverse abilities may take comfort in predictable and consistent schedules as well as clear expectations. Have schedules visible throughout the day, provide warnings before transitions and teach expectations throughout the summer to all campers. Remember that diverse abilities aren't always visible: respond with empathy and understanding to ensure a safe space for self-identification and conversation about what your campers need.
 
Are staff coming up with new ways to create inclusive experiences?
Empower camp counselors to be creative in including all campers. For example, instead of using directives like "stand up" or "jump around," camp staff can encourage kids to "take up space" or "spread around" so that these directives are not based on physical movements that not all people can do. Focus on all the programs and activities that campers can do—especially ones they can do together—and engage youth as bridge-builders between one another.
 
Is our camp's approach to nutrition and diet-sensitive to all youth?
Some youth with autism or other types of diverse abilities may take comfort in a very limited diet and may only be able to eat the same type of snack consistently. Allowing flexibility with snack choices may alleviate a camper's anxiety and demonstrate empathy.
 
Is our camp collaborating with partners to advance this work?
Consider working with national organizations that have expertise in this area, such as Kids Included Together (KIT), the National Inclusion Project (NIP), the American Diabetes Association or the Autism Society of America. These organizations have all trained local Ys to ensure that staff at all levels understand the importance of learning how to work and engage effectively with individuals and families of those with diverse abilities in summer camp and beyond!
---
Looking for more tips and support?
To learn more about how camp staff can help children of all dimensions of diversity feel welcome and nurtured, reach out to us at [email protected]