Closing the Pre-K Gap: How to Help Families Prepare for Kindergarten
How to Prepare for Kindergarten
Parents play a critical role in children's early learning experiences. In order to properly develop the social and behavioral skills that promote success in the classroom, young children need support at home. Unfortunately, families living below the poverty line face many barriers to providing high-quality early childhood experiences, causing an educational and developmental gap that begins before their children enter kindergarten.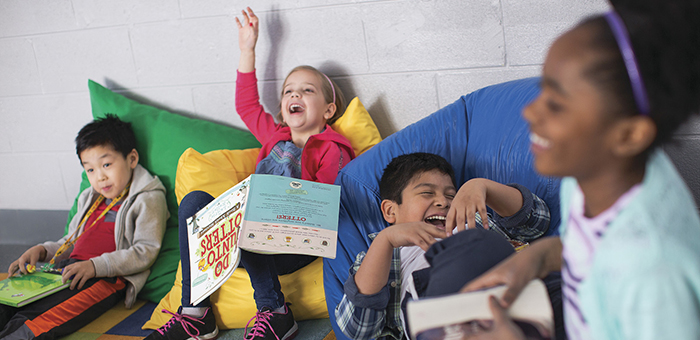 A recent report from The Pennsylvania State University and Robert Wood Johnson Foundation stresses that focused parent engagement practices during the pre-school years are crucial in overcoming the school-readiness gap to ensure all children reach their potential.
---
As life for early childhood educators slows down a bit in the summer, here are some tips to help equitably engage the parents and family members in your early childhood program:
Get social
Invite families to share their culture, skills, talent and knowledge through a variety of structured and informal events. Summertime is a great time of year to host fun, outdoor events that get the whole family active and engaged. Understanding your young learners' family dynamics and home environments will help you integrate information into your teaching practice.
Events could include:
Family picnics
Potluck meals
Sing-alongs
Festivals and celebrations, often incorporating families' cultural heritage
Family fun nights
Parent coffees
™ events
Community days/open houses
Grandparents Day event
Plan together
Actively involve parents and caretakers in the decision-making process about their children's learning experiences. In doing so, you'll validate families' rights to act as advocates for their children. Start with an intake questionnaire this summer to learn more about families in your program and begin the process of mutual goal-setting. Then, establish parent-teacher conferences to continue discussing goals for children both at home and at school during the traditional school year.
Think outside the classroom
Facilitate parents' ability to continue learning experiences at home. Develop and distribute learning materials, books and supplemental resources that reinforce what the child is learning in the classroom. Take advantage of the great summer weather to structure activities for families to explore the great outdoors. Plan a nature walk or get your hands dirty in the garden!
Make the time to talk with parents about how to best use resources—not only will it enrich the learning experience, but you'll have the opportunity to strengthen your relationships with the parent or caretaker.
Foster two-way communication
Consistent, open communication is the key to quality engagement with families. Ask parents about their preferred form of communication and adopt that style. You can use a mix of the following methods to stay in touch with parents:
Orientation events
Regular parent-teacher conferences
Home visits
Conversations at drop-off and pickup
Phone conversations
Text messages
Logbooks
Daily or weekly reports
Newsletters
Handouts and fact sheets
Bulletin board posts
Emails
Blogs
E-newsletters
Overcome language barriers
As much as possible, communicate with children and families in their preferred language. When possible, enlist or hire bilingual teachers to reach out to families or consider enlisting the help of a bilingual parent volunteer. Try to translate materials into a family's preferred language. Utilizing photos and videos of children can also be a helpful communication tool to overcome a language barrier.
Tips are from the National Association for the Education of Young Children (NAEYC) and the Robert Wood Johnson Foundation (RWJF).