How Will You Share Kindness This December?
How Will You Share Kindness This December?
As the year winds to a close, many communities are in need of kindness. Just one small act can go a long way. That's why YMCAs across the country are providing hundreds of opportunities for youth and families to give back as a family and share kindness with their communities.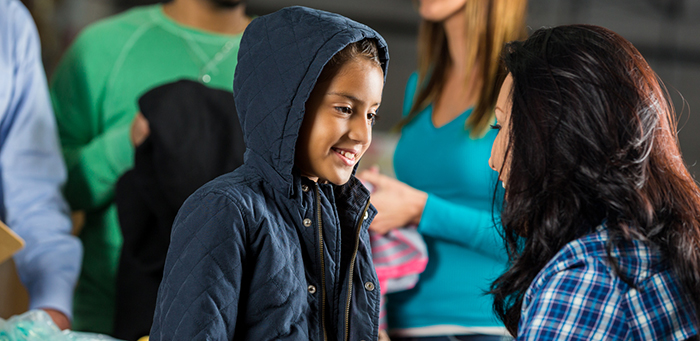 How will you share kindness this December?
Looking for inspiration?
Here's what some YMCAs have shared with us:
Serve a holiday meal. The Dow Bay Area Family YMCA hosts a free community breakfast with Santa to feed hundreds of local families. At the meal, they also provide toiletries to families in need.
Host a coat drive. The Sunbury Branch of the Greater Susquehanna Valley YMCA collects over 1,000 coats for their annual coat drive. The local dry cleaning company dry cleans all the coats at no cost, and the garments are given away during the week prior to Thanksgiving.
Adopt a family. As part of the Naugatuck YMCA's "Elf Project," sponsors adopt families and provide holiday dinners, clothing and gifts for families struggling during the holiday season. The YMCA expects to sponsor 30-40 families this year!
Collect gifts. With the help of area businesses, the Chippewa Valley Family YMCA collects over 100 gifts each year to distribute to individuals, families and children in need to brighten up their holidays.
To further spread good cheer this holiday season, the YMCA of the USA has partnered with NBC's TODAY to champion the #ShareKindness nationwide initiative, which aims to inspire one million acts of kindness in the month of December.
We invite you to share your acts of kindness with us and inspire others on social media using #ShareKindness.
Together, we can provide a powerful reminder of the importance of kindness not only during the holidays but throughout the year.
---
Looking for more tips and support?
Find the Y nearest you to search for opportunities to share kindness in your community!